Shin Shin Education Foundation Awarded "Model of Chinese Charity" Award
On a crisp autumn day in Beijing, 13th September 2018 was a proud and exciting day for all volunteers, friends, officials, teachers, and students of Shin Shin Education Foundation. The Ministry of Civil Affairs praised Shin Shin and awarded the foundation the highest and the most important China Charity Award during the tenth China Charity Award ceremony in the majestic Great Hall of the People. Shin Shin Education Foundation volunteers in America and China along with another twenty-seven individuals and charities were rated as Models of Chinese Charity.
More detail please check Shin Shin Education Foundation Awarded "Model of Chinese Charity" Award。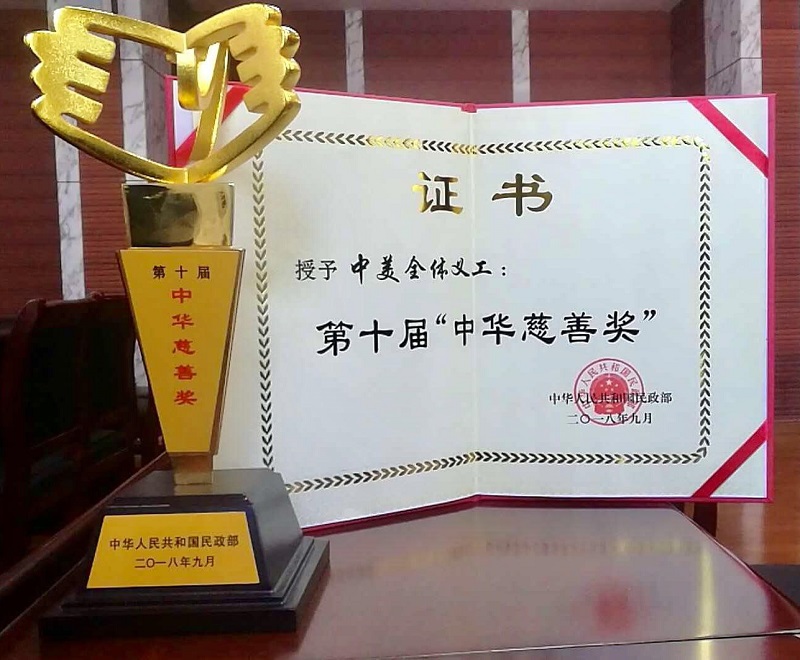 Shin Shin received congratulation letters for celebrating 20th anniversary of the founding
This year is the 20th anniversary of the founding for Shin Shin Educational Foundation. Shin Shin received congratulation letters from many Chinese government offices, including Consulate-General of China in San Francisco, Heilongjiang Overseas Chinese Affairs Office. Also Shin Shin received congratulation letters from California government offices. Cupertino Mayor declares that 12/9/2017 as Shin Shin Day. More detail please check Collection of Congratulation Letters for Shin Shin 20 Years。
SSEF Among the 20 Foreign Non-governmental Organizations in Beijing Awarded Registration Certificate
January 23, the registration certificate ceremony for the first batch of foreign Non-Governmental Organizations (NGOs) was held in the Beijing Municipal Public Security Bureau Exit-Entry Administration Zhongguancun alien service hall. The Office of Overseas Non-Governmental Organizations of the Beijing Municipal Public Security Bureau issued on-site registration certificates for representatives of 20 NGOs, such as the Beijing Representative Office of World Economic Forum, Paulson Foundation and International Saving Children Society. Officers of Ministry of Foreign Affairs, National Development and Reform Commission, National Planning Commission, National Forestry Administration and other departments participate in the ceremony. Britain, France, Switzerland and other countries embassy officials were invited to attend. [Author: Jing Fu; News Source: The Ministry of Public Security of P.R.C Jan 24, 2017]
Shin Shin has Received an Official Approval to Establish a Representative Office in China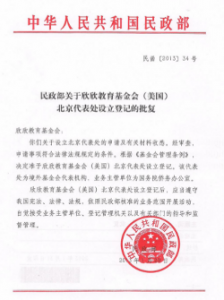 On March 10th of 2013, Steve Ting, the President of Shin Shin Educational Foundation (SSEF/Shin Shin) was interviewed by Qingwei Wang, a journalist from World Journal, to share the exciting news that China's Ministry of Civil Affairs has formally approved Shin Shin's application to establish a representative office in Beijing. The representative office will be directly supervised by the Overseas Chinese Affairs Office of the State Council of China. The office will enable the foundation to continue its work in promoting education in remote, poverty-stricken areas in China. Many thanks to all the SSEF founding members and volunteers for their time and effort in making this possible.
It is with great honor that SSEF obtained the approval, as it is an extremely difficult task to set up a representative office in China. Only a handful of such applications have ever been approved. This approval is an official recognition of Shin Shin's mission and operations in China, as well as the countless volunteers' contributions. It is the result of Shin Shin's long-term efforts in the past fifteen years of helping the remote areas of China.
The establishment of an office in Beijing has a far-reaching impact on Shin Shin's future operations in China. Establishing an office in China will allow SSEF be better connected to the children in need. We continue to rely on many wonderful local volunteers in China to help the children, and a registered, official office will allow us to recruit even more volunteers in China and expand our range of support and assistance to children there.
After the office has been established, SSEF will also be able to cooperate with other foundations, businesses, companies, and individuals in China. Dedicated staff will be assigned to handle those matters and will significantly impact Shin Shin's long-term development. In order to operate successfully in China like any other association, setting up a branch company would facilitate the business process. For commercial companies, all the businesses are meant for customers, but for Shin Shin on the other hand, we help any of the children who are in need of education.
Through the office in China, Shin Shin will be able to communicate more timely with the Overseas Chinese Affairs Office of the State Council, the Ministry of Education, the Ministry of Civil Affairs, and other government agencies in China that supervise Shin Shin's operation. Due to the convenience of contacting such government agencies, the process of matters speeds to be more immediate and effective. Overseas donors will be able to transfer their donations quickly to the schools in need through Shin Shin's bank account in China, and will also be able to arrange face-to-face interviews with potential volunteers who are interested in supporting Shin Shin's educational mission. Moreover, Shin Shin has accumulated 15 years of experience in the U.S. which will be brought back to China to be exchanged and shared amongst other foundations.
It is Shin Shin's first step to set up an office in Beijing, but more offices may be set up in other parts of China in the future to serve those areas. Stay tuned for the further updates on the Beijing office.
Shin Shin Received Honors at the "Family of One" Celebration
Shin Shin Received Honors at the "Family of One" Celebration and Fundraiser on December 10, 2011
Cupertino Mayor Gilbert Wong presented a "Proclamation" to recognize Shin Shin's efforts in construction and repair of 333 primary schools in China over the past 14 years, and also to honor all the volunteers' hard work and dedication. Additionally, Qiaoban (National Overseas Chinese Affairs Offices) sent a congratulation letter to appreciate Shin Shin's mission and accomplishments, and to congratulate the 15th anniversary of the foundation's establishment.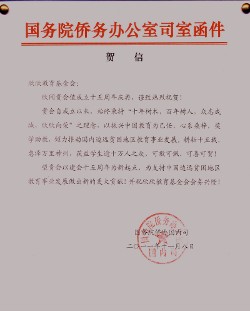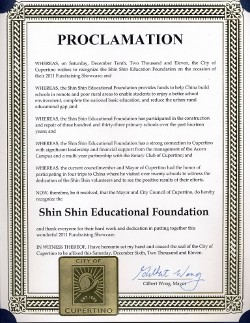 Shin Shin Educational Foundation has been honored by City of Cupertino in California
Shin Shin Educational Foundation has been honored by the City of Cupertino in California, and by the Overseas Chinese Affairs Offices at all levels in China.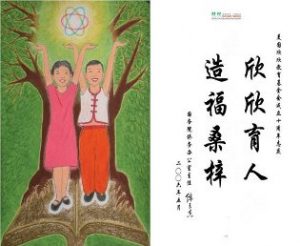 At the ten-year anniversary for Shin Shin's establishment, Overseas Chinese Affairs Office's Director ,Yujie Chen, created a calligraphy poem for a painting created by a Shin Shin student, to appreciate Shin Shin's efforts. Every year, Shin Shin has been showered with thank-you letters from Chinese government agencies and personal notes from Shin Shin students and teachers.
Switch to Chinese to view the list of thank you letters.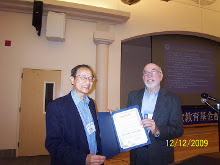 In 2009, Orrin Mahoney, the former Mayor of Cupertino, represented the City Council to recognize Shin Shin, for providing funds to help China build schools in poor, rural areas. These schools enabled students to enjoy a better school environment, complete of the national basic education, and reduce the urban rural gap. Additionally, Shin Shin has participated in the construction and repair of more than 300 schools, and has built a strong connection to Cupertino through the significant leadership and financial support from the management of the Acorn Campus and a multi-year partnership with the Rotary Club of Cupertino.
Together with many Rotarians, Orrin Mahoney, an active member who served as the President of Cupertino Rotary Club and the Chairman of Rotary International Service, has participated in four trips to China. During these trips, they visited over a dozen Shin Shin schools, witnessed the dedication of the Shin Shin volunteers, and were able to see the positive results of their efforts through the faces of the children at these schools. Their testimonies are the best rewards and encouragement for Shin Shin.