Mission of Shin Shin
David Tsang: Honorary Chairman, Chairman 2005 – 2018, President 2001 – 2005
The meaning of "Shin Shin" reflects our belief that we'll strive by working together. To serve those people and children in need is firmly embedded in our DNA. We are committed to following through with our partner schools, and have adopted a highly flexible approach that allows us to address the most needs of each rural school.
We have volunteers and partners in both China and America sharing a common vision address the education disparity faced by the children of rural China.
Let's give love and compassion to those children, and their future will be improved. Let's give them an opportunity for them to have brighter future for generations to come.
I thank you for your genuine support to the Foundation and the rural children in need!
Pragmatic, Reaching the Next Level, Dedication
Steve Ting: Chairman, President 2010 – 2015, Chief Representative of the SSEF Beijing Office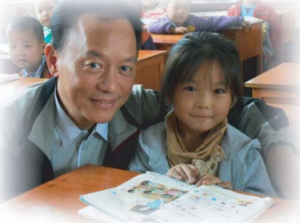 Strong sense of a mission
What motivates us are events that cause rapid changes in China, a strong desire to continue improving the educational environment in Shin Shin schools, our ultimate goal of reducing the educational disparity between rural and urban regions, and inspired scores of our volunteers to act. They have spent their precious time, energy, and money dedicated to traveling to poverty stricken and mountainous regions in rural China in order to visit schools and participate in Shin Shin's educational programs. Volunteers obtained the latest information on economic, educational development, challenges in China, and were provided valuable insight for future programs. Their efforts, combined together with the excellent support from Foundation volunteers in the States, is the clear reflection of a strong sense of commitment to an overall mission.
The next level and making a greater impact
Shin Shin has applied three stages of development over the past fourteen years: Stage I – school constructions/renovations, Stage II – basic facility improvements, and Stage III – educational initiatives/programs. While the efforts toward school constructions/renovations and facility improvements continue, the demand to enhance the learning environment (including educational hardware, software, and teaching/learning techniques) in those disadvantaged rural schools is ever mounting. We have taken a series of steps to further strengthen our educational programs and also position ourselves for greater impact.
To deepen appreciation of China's educational policy, collaborate closer with our partners and beneficiaries, and recruit in-country volunteers to further carry out Shin Shin's effort, an application was submitted to the Chinese government to establish a Representative Office in Beijing.
Aspiration and inspiration
In the year of 2011, I, jointly with many devoted volunteers, have visited 30 schools located within 7 provinces and worked as Teaching Assistants for the ECTT centers in both Hunan and Gansu. During the trip, I had to hold back my tears when I was surrounded by cheerful students who were happily sitting in newly renovated, but simple and basic, classrooms yelling out, "How are you, Grandpa!" What also warmed my heart was when village teachers warmly held my hand and eagerly told me how grateful and motivated they were by our efforts and service spirits. They praised us for our generosity, dedication, positive impact, and most importantly, our sustained efforts. I'm deeply inspired by all of the volunteers' diligent efforts, donors' generosities. the support from our partners and government agencies. I thank you all from the bottom of my heart. Together, we are making a difference!
Passing The Torch
Yiqing Yang (President 2018 July–current)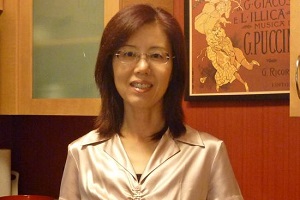 I was a software engineer with over 20 years of experience developing software for high-tech companies in the Silicon Valley. My path for education and work had taken me through many parts of the world enriching my life experience. I felt fortunate to have the opportunity to access the best education I could get and that it also enabled me to see the world around me.
What I have experienced and possessed is not because I am smarter or working harder than others, but I am thankful to God for giving me the opportunity to obtain my education. As such, I have always desired to have the opportunity to help underprivileged children acquire better education and let their education change their destiny. In 2014, I learned about the Shin Shin Education Foundation, and its mission to help elementary schools to renovate school buildings, build libraries, computer rooms, and train teachers so as to improve rural primary education in the most remote and impoverished mountainous areas of China. This is a perfect match to what I have always wanted to do, so I joined the Shin Shin Foundation as a volunteer.
In 2017, at the 20th Anniversary of Shin Shin's founding, I followed the footsteps of Shin Shin's founders, and embarked on a discovery journey to Heilong Jiang and Jilin provinces in Northeastern China where Shin Shin's earliest schools are, including schools that were built in the hometown of Shin Shin's founding directors Mr. Zu Bingming and Mr. Shao Zhongquan. Along my journey, I could imagine the challenges and hardships our founders had endured when founding the Shinshin schools. Dr. Zu Bingming, the first chairman of the board of directors, hailed from a small rural village to come to the US and realized hisAmerican dream. He served as an Asian Affair consultant for five US presidents. He was also a pioneer in promoting Chinese language education in the United States. He realized the instrumental role of education in his successful life experience. The small village elementary school founded by the other director Shao Zhongquan has merged with a bigger school in the town center. The merged school has now become a new and modern school.
Visiting the Shin Shin schools enabled me to witness how education had changed the children and their hometowns. The schools also remember what Shin Shin had done for them – they preserved the history and exhibited it in their museum room so that the students can trace to the root of their school history and learn to be grateful and to give back to the community. Reflecting on this root-seeking discovery journey. I am humbled by what of Shin Shin Foundation has done to improve the education of children in the remote villages and the profound impact it has made on their lives.
As we forge into the future, we will continue to execute on our vision and mission, and work hard to provide rural Chinese children with equal and quality education while sharing our love and influence their lives with ours.